ABOUT BENEDICTION BOX INTERNATIONAL, INC.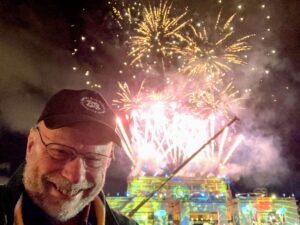 Our founder, Charley Weeth of La Crosse, Wisconsin is a professional pyrotechnist that travels frequently in the United States and internationally.
PERU
His oldest son currently lives in Lima, Peru with his family. He was visiting them for the first time in March of 2018 and noted the many families with children in the streets begging or selling everything from cheap candy to bottles of water.
He learned most were unskilled Peruvians that flock to the city from the very poor rural areas where subsistence farming is the primary lifestyle. They come to Lima in search of a better life where even low wage itinerant work in the informal economy at least offers some hope.
While out one night in a park with his family, he saw a girl about 9-10 years old quietly standing at an entrance holding out a single cheap lollipop. She was one of the dozens of adults and children begging and selling items that night. She yawned while trying to stay awake.
Almost everywhere he went while in Lima, he saw the same thing at it broke his heart.
COLOMBIA
On a visit to a fireworks factory in Colombia the following year, Charley saw every street in the business areas had families and children begging or selling something. There were also men washing car windshields, juggling, break dancing, or performing mime to entertain people in their cars stopped at traffic signals.
He saw the same people out from early in the morning until sometimes after midnight. Anything for a few pesos to be able to buy some food to survive!
On a return visit to Peru, he saw even more families with children on the streets begging. Many were Peruvians, but now there were also even more Venezuelans.
WHAT TO DO?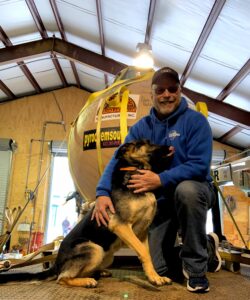 Charley asked his friends and family about all of these people, and they confirmed what he already knew: Most of the families begging on the streets were predominantly refugees from Venezuela. They left because their economy has imploded due to years of rampant corruption and mismanagement of the economy.
The result has been hyper inflation so bad, the paper money is used to create artwork sold on the streets. A teacher's pension in Venezuela may pay $1.50 a month while a cheap hot dog sold on the street in Caracas will cost $9.00 – provided one has US Dollars, Euros or Colombian pesos to pay for it.
Never shy about taking direct action, Charley went to a grocery store with his friends and bought a few carts full of food and personal care items. Together they organized them in boxes and bags for distribution. They went out into the streets and gave them to families with children.
When his friends asked him why he was doing this, his response was "Because feeding children is always a good thing to do".
SMALL SUCCESSES
The refugees BBI gives food and personal care items to are incredibly appreciative. The simple gesture of a unsolicited gift to people that are struggling to survive not only makes their lives a little easier for a brief time, it also gives them a little hope.
Before he returned to the USA, Charley arranged with his friends to continue the project, and Benediction Box, International, Inc. (BBI) was born.
The formula is simple:  BBI arranges the purchase of food and necessities, and BBI people go out into the streets to give it to refugees in the streets, with the priority given to families with children.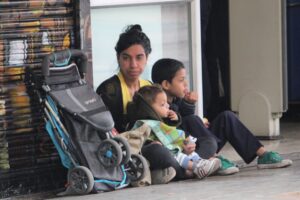 GRATITUDE
Almost every interaction by BBI with refugees is the same:  The families are surprised that anyone, especially an American, would simply walk up to them and give them food and personal care items. They are both happy and somewhat embarrassed about their situation, as they are proud, hard working people who never dreamed they would be living on the streets of another country.
We ask them to tell us their story and with their permission, record a video and take photos so we can show how effective this simple model of helping people directly works.
Now that a base program has worked fairly well on a small scale, and with COVID-19 damaging the formal economies and devastating the informal economies of the world, BBI will begin to solicit more funds and make arrangements to purchase more food and necessities to give directly to more refugees.